Product Catalogue
ROCKTAPE | Fitness Equipment ALL | Strapping Tape | ROCKTAPE | Rocktape | Strapping Tape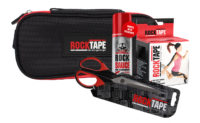 RockPack
RockPack has a roll of RockTape, a pair of scissors, a bottle of RockSauce, all enclosed in a quality travel case.
The dimensions for the travel case are 23cm long x 12cm wide x 7cm high.
The travel case can fit 4 rolls of RockTape (5cmx5cm) with scissors or 3 rolls with the RockSauce.
Code:

9557368579231