Product Catalogue
ROCKTAPE | Fitness Equipment ALL | Strapping Tape | ROCKTAPE | Rocktape | Strapping Tape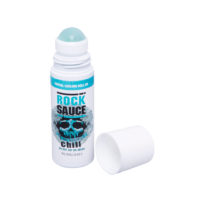 RockSauceChill
Rock Sauce Chill is a cooling gel containing aloe and arnica.  The unique formula provides a soothing cooling effect and can be easily applied using the roll-on applicator.
The applicator contains 88.7ml of Rock Sauce Chill and is the perfect size to throw in your sports bag or Rock N Roller.
How does Rock Sauce Chill differ to Rock Sauce you may ask?  The original Rock Sauce has menthol and wintergreen (methyl salicylate) so has a cold and heat response, and the traditional liniment smell from the wintergreen.  The Rock Sauce Chill has menthol with some aloe and arnica, so it has just a cold sensation without the following heat.  There is also no capsaicin in the Rock Sauce Chill.
Some people find that they can use Rocktape after an application of Rock Sauce Chill, whereas others find that the small amount of residue makes it difficult for the Rocktape to adhere properly to the skin.  For this reason some trial and error may be required to see which category you fall into!  The best topical to combine with Rocktape remains the original Rock Sauce.
Code:

799418006024