Product Catalogue
BOXING | FITNESS | JUDO | JU JITSU | MMA/BJJ | MUAY THAI / KICKBOXING | WEIGHT LIFTING | WRESTLING | DEFENSE SOAP | DEFENSE SOAP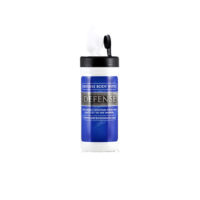 Defense Body Wipes
Defense Body Wipes contains the same 100% natural essential oils as our bar soap and shower gel. The body wipes are an excellent choice when showering is not possible within 4 hours of training or competing. That's the critical window for contagions to develop. Whether it's in between matches, during practices, or just to wipe down equipment Defense Body Wipes are the perfect way to keep your skin healthy while on the go. Each container holds 40 wipes.
CONTAINS NO DYES, PERFUMES, PETROCHEMICAL COMPOUNDS, SODIUM LAURYL SULFATE OR TRICLOSAN
Ingredients: Distilled Water, Tea Tree Oil, Eucalyptus Oil, and Plantasol.
* Defense Soap uses only pure distilled water in products that require a soluable base.
Code:

HS04