Product Catalogue
BOXING | FITNESS | JUDO | JU JITSU | MMA/BJJ | MUAY THAI / KICKBOXING | TAEKWONDO | WEIGHT LIFTING | WRESTLING | DEFENSE SOAP | DEFENSE SOAP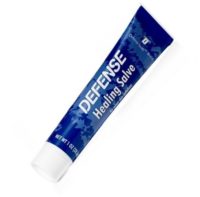 Defense Healing Salve
Defense Healing Salve 1oz. is an all natural maximum strength formula. It was designed to protect and repair skin abrasions as a result of scrapes and friction burns. The salve will also repair cracks and dryness caused by exposure to harsh elements or while working in environments that can cause skin damage.
Defense Healing Salve contains no synthetic chemicals or dyes. The healing salve is made with 16 organic ingredients sourced from the most reputable and highest quality plantations from all over the world.
Ingredients: Chickweed, Plantain, Comfrey, Yarrow, Calendula, Goldenseal, Olive Oil, Marshmallow, Grapeseed Oil, Beeswax, Vitamin E, Almond Oil, Essential Oils of Tea Tree, Eucalyptus, and Thyme.
Code:

HS06