Product Catalogue
GIFT VOUCHERS | Gift Vouchers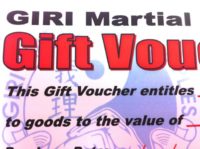 Gift Voucher $90
Can't decide what to buy as a gift?  Purchase a GIRI Martial Arts Gift Voucher! Either as single amounts or combined into one voucher…
VOUCHER AMOUNTS: Voucher amounts can be combined into one single voucher if required (i.e. purchase a $10 & $25 voucher and we will post out to you a single voucher of $35). Contact us (details below) after placing your order and we will add the vouchers together for you into one single amount.
To purchase via our web-site Vouchers are available in increments of $5 $10 $20 $30 $40 $50 $60 $70 $80 $90 and $100.  Or visit us in-store at Shop 3/1234 Albany Hwy Cannington and choose any amount for your Voucher.
SHIPPING/POSTAGE: Our Gift Vouchers are sent out via Australia Post free of charge choose shipping option 'Shipping Cost to be Quoted' and we will post out for Free.
CONTACT US: If you have a query would like to combine your voucher amounts into one single amount or would like to purchase your Voucher via phone give us a call (08) 9458 9199 Mon-Fri 9-5.30pm WST or Sat 9-5pm WST.
Terms & Conditions:
– Vouchers are only available for Australian residents.
– Vouchers are redeemable in-store only.
– Vouchers are not redeemable via our web-site.
– No further discounts/offers are applicable for the purchase of gift vouchers.
Code:

GV90