Product Catalogue
BOOKS | Kickboxing | MMA | Muay Thai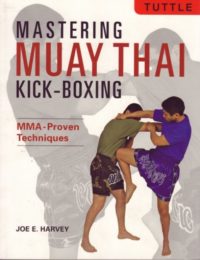 Mastering Muay Thai Kickboxing
Mastering Muay Thai Kickboxing: MMA Proven Techniques. By: Joe E. Harvey.
Muay Thai or Thai Kickboxing – is the national sport of Thailand and a fundamental skill for successful mixed martial arts fighters. Mastering Muay Thai Kickboxing is a detailed manual of the punches kicks elbows knees and standing grappling moves that are a part of Muay Thai one of the fastest growing fight sports in the world. Due to its popularity and effectiveness in the ring Muay Thai has become one of the most prominent forms in the mixed martial arts (MMA) arena.
This manual is an outstanding aid to anyone training in Muay Thai or MMA. With over 200 colour photographs and diagrams and its easy to follow detailed breakdown of techniques and intricate combinations students of all skill levels will hone their abilities and reap dividends of power and speed.
Paperback
Code:

9780804840057