Product Catalogue
ROCKTAPE | Fitness Equipment ALL | Strapping Tape | ROCKTAPE | Rocktape | Strapping Tape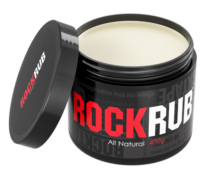 RockRub 400g
RockRub is a massage wax that is fantastic for soft tissue work, especially for deeper tissue techniques and small treatment areas.
RockRub maintains a fantastic consistency throughout treatment, and has a really pleasant fragrance.
RockRub is fantastic for instrument-assisted massage techniques too.
A small amount of RockRub goes a long way.
Ingredients: Canola Oil, Beeswax, Vitamin E, Patchouli, Bergamot, Lavender, and Ylang Ylang.
Code:

8809165679012